User Guide: Volt MX Foundry Updates on Cloud
Volt MX Foundry Updates on Cloud
HCL is constantly making improvements to Volt MX Foundry, which you can install as updates to your PROD environments/Clouds. As an Admin, you can view the latest available Fix Pack version as well as all the Service Packs of the current Cloud's Major version.
How to Update a Fix Pack or Service Pack
From the left pane in your Volt MX Foundry Console, click Environments. By default, the Clouds/Environments tab is selected and displays the list of clouds or environments configured for the Volt MX Foundry account.
Click the Settings button of an environment.

From the Settings context menu, select the Check for Updates. The Available Updates dialog appears.

You can switch between the App Services and Sync Services tabs to view the available Fix Pack  and Service Pack  updates for the current environment version. Updates are displayed in the following format:

|   App Services |   Sync Services |
| --- | --- |
| UPDATES | UPDATES |
| Fix Pack version > Note: Only the latest version of a Fix Pack is displayed. | Fix Pack version> Note: Only the latest version of a Fix Pack is displayed. |
| Service Pack versions | Service Pack versions |
| Current Cloud Version | |

You can select the available latest fix pack version or a service pack version of app services or sync services and then click UPDATE.
Note: You can select one update option at a time and update it.
The Confirm Update dialog displays the following message and prompts for you to confirm the update.
For example, Your update will be applied immediately upon confirmation and typically takes between 5 - 30 minutes to complete. During this update, your runtime services on this environment may not be available.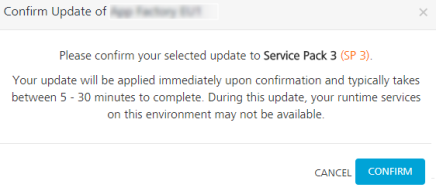 Click CONFIRM. The process of downloading the updates begins.