Web
Volt MX Engagement Server supports the sending of web push notifications using Google's Firebase Cloud Messaging (FCM). Follow these steps to add a new application and configure settings to send web pushes.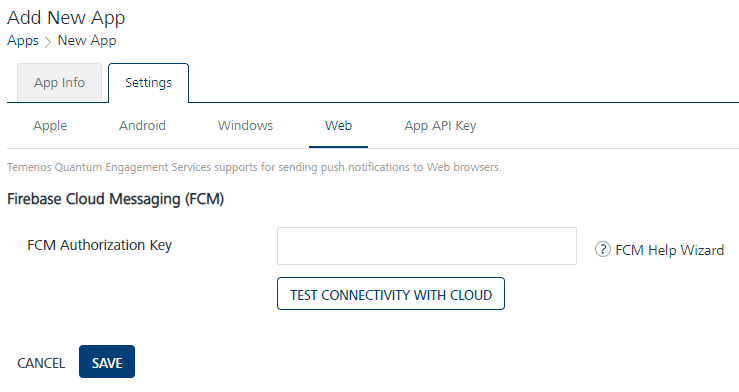 Note: You can send push notifications to Google Chrome, Microsoft Edge, and Mozilla Firefox Web Browsers.
To configure the Web platform, follow these steps:
FCM Authorization Key
FCM Authorization Key: Enter the FCM Authorization Key.

Note: Refer Generating Firebase Cloud Messaging (FCM) Server Key and Sender ID for more details on how to subscribe to FCM and get the FCM Authorization Key.You can also test the FCM authorization key for validation by clicking the Test Connectivity button

Click Test Connectivity button to check if the FCM key is valid or not.
The system displays the confirmation message that the FCM connection test is successful.
Click Cancel, if you do not want to add Web platform.
Click Save to save the specified details.